Kaphini Glacier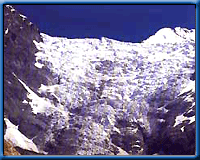 The scenic beauty and the tranquility prevailing this region has an unbeatable charm. The Kaphini Glacier lies left of the Pindar Valley below the famous peak of Nandakot. The route to Kaphini Glacier covers the same track up to Dwali, as the track to Pindari. Kaphini Glacier is 12 km from Dwali via Byali Udiyar, which is at a distance of 8 km from Dwali. As compared to Pindar the valley is much broader and the rhododendron (burans) that blooms here is spectacularly beautiful. The main Himalayan summits visible from the glacier are Nandakot (6860 m) and Nandabhnar (6236 m).
There are no rest houses beyond Dwali on the Kaphini track, so one has to use tents. Byali Udiyar is an ideal spot for a night's stay, because there are grasslands to pitch a tent and caves for a convenient night halt. To reach the glacier, one should start very early from Byali Udiyar 4 km away, so as to arrive at the zero point before 9 a.m..

Trek Base Camp Saung
• Saung to Kaphini Glacier 45 km.
• Saung to Loharkhet 3 km,
• Loharkhet to Dhakuri 11 km,
• Dhakuri to Khati 8 km,
• Khati to Dwali 11 km,
• Dwali to Kaphini Glacier 12 km.
.
Book your Tour, Fill our Booking Request Form by Clicking here