Butter Festival at Dayara Bugyal
The opportunity to play with butter, milk and 'Chacch' (butter milk) on the lush green high altitude Himalayan meadow at an altitude of 3048 mts. It is a once in a lifetime experience. This unique butter festival, locally known as 'Anduri Utsav' is a traditional Holi of the Himalayan natives. It is a cultural gift which is in practise since last many generations.

The festival is associated with the practice of villagers moving to higher altitudes during summer. For four long months, highlanders move with their cattle to high altitudes for pasture. When winter approachs and its time for them to leave the grasslands, the villagers celebrate 'Anduri' to express their gratitude to Mother Earth. It is their time to celebrate having had a safe and comfortable stay on the Bugyal (meadows). And also in the hope of getting more fodder next time.
The fair is a symbol of nature's close association with man. It is celebrated to express gratitude to Mother Nature.

The butter smeared faces of the people will be a sight to behold and the singing of the villagers echoed through the lush green surroundings! Anduri is also celebrated to thank Krishna for protecting the cattle from evil forces while they are grazing in the open meadows of Dayara. It is also celebrated to mark the occasion of Krishna's lifting of Govardhan Parbat to crush the ego of Indra.The traditional 'Raso' group dance by villagers will be another highlight. The vibrant mood of the people singing in local dialects accompanied with folk music will be a treat to Watch.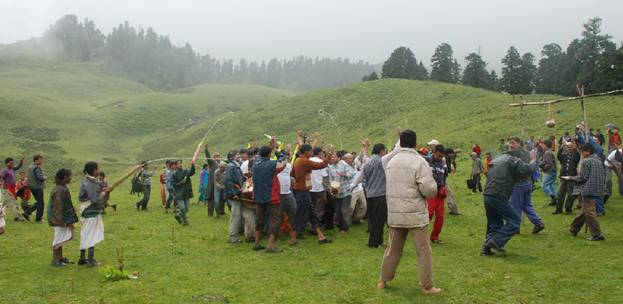 RECCOMENDED TOUR ITINERARY
DAY 01 : ARRIVE NEW DELHI
Arrive New Delhi. Meeting and assistance on arrival & transfer to hotel. Afternoon sightseeing of Delhi visiting Qutub Minar, Humanyn's Tomb, Parliament Building, India Gate and the Cannought market place. Overnight at hotel
DAY 02 : NEW DELHI - RISHIKESH
Morning drive from Delhi to Rishikesh.Overnight stay at Rishikesh. Rishikesh, the 'place of sages' is a celebrated spiritual town on the bank of Ganga and is surrounded by Shivalik range of the Himalayas on three sides. It is said that when Raibhya Rishi did hard penances, God appeared by the name of " Hrishikesh " and this area hence firth came to be known as Rishikesh.Overnight at Rishikesh.
TEMPLES & SIGHT SEEING – LAXMAN JHULLA, RAM JHULLA, TRIVENI GHAT, BHARAT MANDIR, SHIVANANDA ASHRAM, PARMARTH ASHRAM.
DAY 03 : RISHIKESH – UTTARKASHI – RAITHAL VILLAGE
Morning drive from Rishikesh to Raithal Village in Uttarkashi.Overnight stay at Raithal Village. Arrival in Raithal Village – eco village 40 kms. from Uttarkashi.Overnight Stay at Alpine Tents or Hotel. Uttarkashi the place holds distinct importance in Uttaranchal. Bordered by a range of snow capped peaks on the northern side, Uttarkashi district of Uttaranchal is located at an elevation of 1158 mts. As beautiful Garhwal district Uttarkashi is the land of holiest of pilgrimages of Hindus, Gangotri and Yamunotri. Within the bounds of its land, it has the origin of two holiest rivers of India, Ganga and Yamuna. Owing to its deep rooted religious connection, the hill district is also known as 'Devbhumi' (the land of gods and goddesses). Uttarkashi easily captivates the visitor's charm with a snowline high above and a green landscape around, terraced hills, lakes, springs and waterfalls, Uttarkashi is a destination that holds something for everyone. It is a trekkers paradise, a pilgrim's dream come true, a nature lover's dream destination. Not just that, Uttarkashi is surrounded by an interestingly varied places, Himachal on the north, Tibet on the North east, Chamoli on the east, Rudraprayag on the south eatt, Tehri on south and finally Dehradun on the east.
DAY 04 : RAITHAL VILLAGE – DAYARA BUGYAL (08 KMS TREK / 3 HRS)
After morning breakfast trek to Dayara Bugyal. The trek will pass through stretches of dense forests, waterfalls and sighting of wildlife.Reach Village and relax or visit the village.Overnight at Alpine Tent.
DAY 05 : DAYARA BUGYAL
Today is the day for celebrations – holy with a difference. The festival start with a local boy and girl portraying as Lord Krishna and Radha visiting the channies (temporary dwellings of Himalayan shepherds).The holi celebration start after applying butter and milk on the face of Krishna and Radha. Now you are free to join the villagers in playing holi with milk, butter and butter milk. At the end participate in traditional Raso dance and other cultural festivities. Overnight: Alpine Tents.
DAY 06 : DAYARA BUGYAL – RAITHAL – UTTARKASHI.
Morning Trek down to Raithal village.and further Drive to Uttarkashi.Overnight stay at Uttarkashi.
DAY 07 : UTTARKASHI - RISHIKESH.
Morning, Drive back to Rishikesh. Check in Hotel. Overnight stay in Rishikesh.
DAY 08 : RISHIKESH DELHI.
Morning, Drive back to Delhi. Reach Delhi and Transfer to airport to board flight to back home.
END OF SERVICES
LIST OF ESSENTIALS THINGS TO CARRY
- Windproof jacket
- Fleece / Full-sleeve Woollen sweater
- Thermal inner wear (upper & lower)
- Woollen socks (extra pairs to be carried)
- Comfortable Trekking/Hiking shoes (shoes with a thick sole are recommended)
- Raincoat
- Water bottle
- Cap / Hat
- Sunscreen Lotion
- Torch / Flashlight (with extra batteries)
- Medicines, if requiring any specific medication
- Sunglasses
- Personal toiletries
Book you Tour, Fill our Booking Request Form by Clicking here