Destination: Kuchesar –Corbett National Park –Almora –Nainital.
Days: 5 Nights / 6 Days.
Day 01 : Delhi - Kuchesar / Fort Unchagaon in Garhmukteshwar
Arrival at Delhi. Pick up from Airport and Proceed directly for Kuchesar by road (60 kms) or at Fort Unchagaon. Overnight at fort.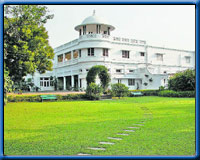 Day 02 : Fort Unchagaon /Kuchesar - Corbett
Early Morning drive to transfer to Jim Corbett National Park (6 hours). Jim Corbett National Park-named after the hunter and naturalist Jim Corbett who played a key role in its establishment-is the oldest national park in India. The park was established in 1936 as Hailey National Park. Situated in Nainital district of Uttarakhand, the park acts as a protected area for the critically endangered Bengal tiger of India, the secure survival of which is the main objective of Project Tiger, an Indian wildlife protection initiative. Overnight stay at Cobett.

Day 03 : Corbett
After breakfast ,go out for Elephant and Jeep Safari Overnight stay at Corbett Hideaway.

Day 04 : Corbett –Ranikhet- Almora
After breakfast,proceed to Almora via Ranikhet. Almora is a cantonment town in Almora district in the state of Uttarakhand, India, founded in 1568 .Almora is located at an altitude of 1638 meters (5,500 feet), on a ridge at the southern edge of the Kumaon Hills of the Himalaya range. In the shape of a horse saddle shaped hillock it is surrounded by thick forests of pine and fur trees, flowing alongside the city are rivers of Koshi(Kaushiki) and Suyal(salmale) Almora Fort which offers 360 degree view of Almora and to top it all are the snow capped Himalayas in the background.It is a town bustling with activity, and has a rich cultural heritage and history. It is considered the cultural heart of the Kumaon region of Uttarakhand.Dinner and overnight stay at Almora.

Day 05: Almora – Nainital
In the morning transfer to Nainital (75 kms), Nainital is a town in the Indian state of Uttarakhand and headquarters of Nainital district in the Kumaon foothills of the outer Himalayas. Situated at an altitude of 1,938 metres (6,358 feet) above sea level, Nainital is set in a valley containing a pear-shaped lake, approximately two miles in circumference, and surrounded by mountains, of which the highest are Naina (2,615 m (8,579 ft)) on the north, Deopatha (2,438 m (7,999 ft)) on the west, and Ayarpatha (2,278 m (7,474 ft) on the south, Boating at Naini Lake and overnight stay at Hotel.

Day 06: Nainital - Delhi
Departure for Delhi.Dropping at Airport
Book you Tour, Fill our Booking Request Form by Clicking here