THE SARYU FLOAT TRIP
Epic angling experiences in the Himalayas
SUMMARY FEATURES
Region: Kumaon, Uttrarkhand, India
Route: New Delhi – Kathgodam - Ghat
Season: March – May & October
Accommodation: Safari Tents
Ranges – on route to the river and back.
The Saryu / Mahakali rivers – a prolific producer of trophy Himalayan Mahseer.
Experience cultures and temples dating back over a thousand years.
Some of our most memorable fishing travels are the ones that bring us closer to the soul of a nation
- its uniqueness in landscape, its fishery and the cultures that surround them.
One such fishing experience that expresses the true essence of an incredible nation is the Saryu River
tour – an epic 10-day journey through north India's Kumaon region - its rich waterways, wild Mahseer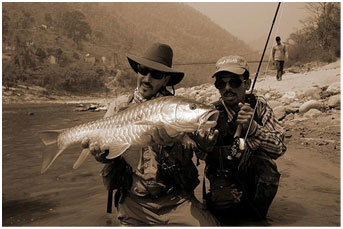 fishery and ancient cultures. A journey that begins in the historical capital of New Delhi; traversing to the borders of India and Nepal, while floating down the migratory gateway of north India's Mahseer fishery.
The large and un-dammed Mahakali River that demarcates the borders of the two counties is the
main contributor to the Saryu's productive Mahseer fishery.
For the angler; and the ones who have heard and read about the Golden Himalayan Mahseer's
sporting prowess and north India's rich heritage - this is a fascinating and contemplative sporting
tour that captures the essence of a unique and very special part of the world.
 SUGGESTED ITINERARY
Day One (1)
Arrive at New Delhi International Airport where you are met and transferred to your hotel. Get settled into your room and relax before boarding the overnight train to Kathgodam, from where you begin your drive to the river the following day. You are escorted to the railway station from where you board the comfortable overnight sleeper train along with your guide.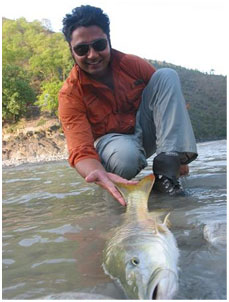 Sunday / Day Two (2)
Arrive at Kathgodam in the early hours of the morning you are met and transferred to a hotel to freshen-up and change before starting the drive to the river. After breakfast begin the drive to the starting point of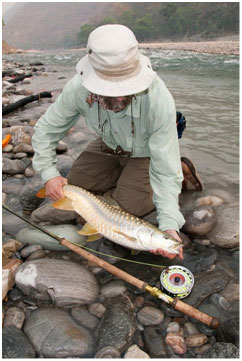 the float tour that takes roughly seven (7) hours. A packed lunch is served on route - guests arrive at the
starting point of the float-tour by 1600hrs and float down to the first camp.
Monday / Day Three (3)
Fish the lower section of the river. There is a lot of good fishing water above and below the camp.
Tuesday / Day Four (4)
You will find that camp bides strongly to environmental guidelines – the toilets that are dry-pit are set-up separately, alongside the shower tents - guests can requests a streaming hot bucket shower at any time.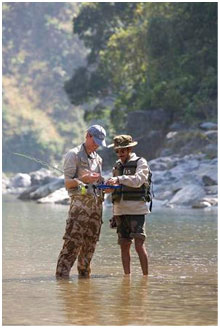 Wednesday / Day Five (5)
Fishing all day
Thursday / Day Six (6)
Fish all day - float down-river.
Friday / Day Seven (7)
Fish all day
Saturday / Day Eight (8)
Fish all day
Sunday / Day Nine (9)
Fish
Monday / Day Ten (10)
Begin the drive back to the train station - this drive will take seven-hours. During the drive you will reach
an elevation of roughly 6,500 feet, which is through beautiful Himalayan Oak, Rhododendron and Pine
forests. There is even a chance of encountering some wildlife on the drive, like Mountain Goat, Barking Deer, Pine Martins, Leopard, and an assortment of birds. On a clear day one can get a stunning view of the  greater Himalayan ranges, including the famous Nanda Devi (25,645 feet), the highest peak of this region, and many other 20,000 ft. plus mountains. There are plenty of great photography opportunities on this drive. Board the overnight train.
Tuesday / Day Eleven (11)
Arrive in Delhi in the early hours of the morning along with your guide – you are met and transferred back to your hotel.
Season:
March through May and then 25th September to the 2nd of November.
Includes:
Escorted transfers throughout the tour that includes pick-up and drop to the New Delhi International
airport, accommodation on the river is in tents - single-occupancy, all meals during the fishing days, beverages, including bottled mineral water, one fishing guide per angler, the use of tackle & some flies, fishing permits and taxes.
Not Included:
International air-fare, gratuities, alcoholic beverages, items of personal nature, flies or lures, meals and accommodation in Delhi upon arrival or departure, additional accommodation / transfers / sightseeing that is not part of the itinerary and other expenses incurred due to flight delays / natural
hazards / other hazards beyond our control.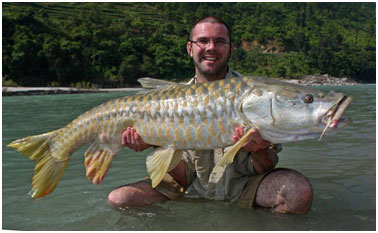 Transportation:
Fly into New Delhi where you will be met by a representative.
Activities:
Fly-fishing for the Golden Himalayan Mahseer, visit an old temple (optional), short hikes through remote villages, and plenty of photography.
Accompanying non-anglers: An itinerary will be customized for accompanying non anglers, based upon his/her interests, and physical fitness. Non anglers have choices ranging from bird watching to village walks along with our seasoned trekking guides who are on each tour. Village walks feature off-the-beaten-track hiking, views of the greater Himalayan ranges and experiencing life in India's remote Himalayan outback. A visit to the ancient temple of Pancheshwar at the confluence of the two rivers is also a highlight of this tour.
Apart from these activities, the river journey down this tranquil section of the Saryu River is truly inspiring.
Restrictions:
The government of India prohibits the use of satellite phones, shortrange & long-range radio / walkie talkie / hand-held communication devices within India.
Please be intimated that for safety reasons we do not allow any firearms in our operational premises. This company policy / restriction are also applicable on arms like air-rifles / pistols, stun guns, large knives as well as any kind of fire crackers.
Flies:
We make available to our guests a selection of effective patterns that have been developed with the help of pioneers of the Golden Himalayan Mahseer flyfishing industry. Some of these flies can be bought from the camp manager upon your arrival.
Book you Tour, Fill our Booking Request Form by Clicking here